Amazing Mt.Fuji views
and the location has the best camp!!
At Kouan Campsite you can camp on the lakeside or the forest tent site. For those who do not have a tent, we also have cabins.
A bath is available. The bath is 500 yen per person. The bath is open at 10:00am~8:00pm.
Tent site

We have two tent areas, lakeside and forest.

Facility:Toilets and a water supply.

キャビン(2022年4月リニューアル!!)

浩庵キャンプ場にはキャビンがございます。
A棟(4人用)×2棟、B棟(6人用)×4棟、C棟(10人用)×2棟の3タイプ8棟で、それぞれにトイレ、キッチン、冷蔵庫、エアコンを完備しており、気軽にアウトドアが楽しめます。
B棟にはシャワー、C棟にはお風呂が付いています。
キャビン周辺にテントスペースもございますので、グループでキャビン泊とテント泊に分かれてお楽しみ頂けます。(テント泊は追加料金)
Price
キャビン料金
※布団無し、寝袋レンタルをご利用頂くか、寝具をご持参ください。
| | |
| --- | --- |
| B棟キャビン(6人用) | 28,200円 |
| C棟キャビン(10人用) | 49,000円 |
| リネン代(シーツ・枕カバー)1組 | 400円 |
※布団付き、ご利用人数分のリネン代が掛かります。
キャンセル料 1棟1泊につき、
1週間前より 5000円
前日取り消し 50%、当日取り消し 全額
設備、付属品、利用方法、オプション等の詳細はこちらからご確認ください。
前日、当日のご予約は直接お電話にて問い合わせください。
(ネット予約は前々日まで)
Tel:0556-38-0117(8時~20時)
Bring a tent and camp
Adult
(junior high school
age and over)
1person/
1night
900yen
Child
(Elementary School)
1person/
1night
600yen
Tent space fee
1tent/
1night
1,200
yen
Tarptent space fee
1tent/
1night
700
yen
Parking fee
1car/
1night
1,200
yen
Recreational
vehicle
1car/
1night
2,400
yen
Motorcycle
1car/
1night
800yen
Day camp (Only empty day)
Adult
(junior high school
age and over)
1person
700yen
Child
(Elementary School)
1person
400yen
Tent space fee
1tent
700yen
Tarptent space fee
1tent
500yen
Parking fee
1car
700yen
Recreational
vehicle
1car
1,400
yen
Motorcycle
1car
600yen
User guide
Reception will be held at Kouan Central Lodge. (Reception time: 8: 00 AM~ 8: 00 PM)
Check out time 10:00 AM.
We do not rent camping equipment (tent, tarp, barbecue set etc).
MAP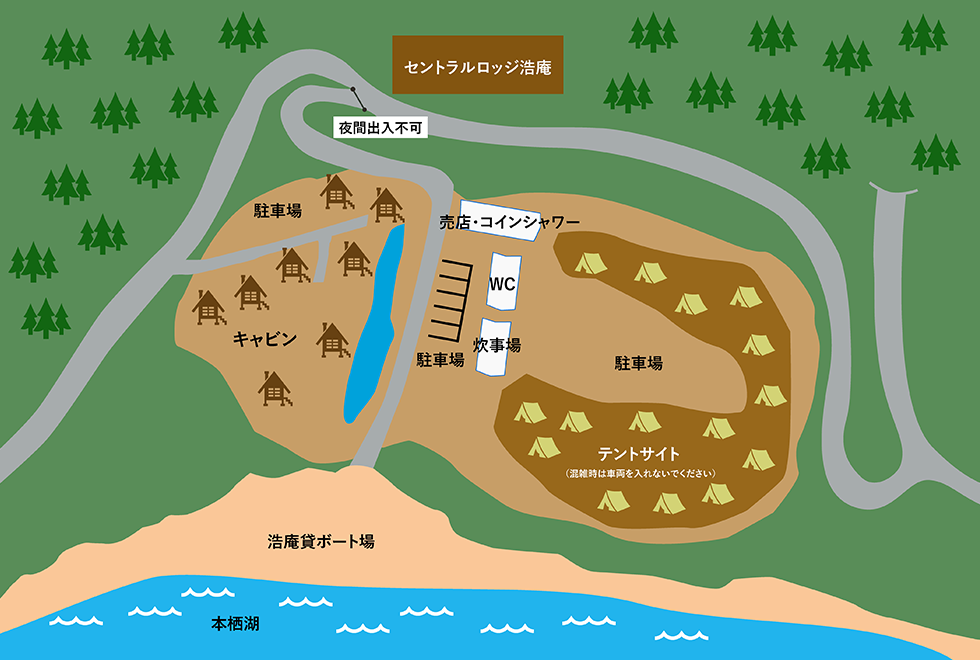 Infomation
The gate is open from 8:00am to 8:00pm.
Please be considerate of others.
As general rule, take yor garbage with you.
Please keep the area clean and beautiful.
After 8:00pm the gate is closed.
Checkout time is 10:00am for overnight campers.
Check out time is 5:00pm for day campers.
The bath may be used from 10:00am to 8:00pm.
Bath fees are 500yen for adults and 300yen for children(age 1 - 12).
Bath are located in the main building(Central Lodge - Kouan).
Big fireworks are not permitted.
Small fireworks are allowed until 9:00pm.
No one is permitted in the lake without a life jacket.
Personal motorboats, jet skis or other motorized watercraft are not permitted.
Cabin check in is 3:00pm.
Cabin checkout is 10:00am.
Do not smoke in the cabin.