Amazing Mt.Fuji views
and the location has the best camp!!
At Kouan Campsite you can camp on the lakeside or the forest tent site. For those who do not have a tent, we also have cabins.
A bath is available. The bath is 500 yen per person. The bath is open at 10:00am~8:00pm.
Tent site

We have two tent areas, lakeside and forest.

Facility:Toilets and a water supply.

Cabin

We have three cabins that accomodate 6 people each.

One cabin that can accomodate up to 10 people.

There is a bath and toilet in the 10 person building.

Facility:kitchen,Toilet.
Price
Bring a tent and camp
Adult
(junior high school
age and over)
1person/
1night
900yen
Child
(Elementary School)
1person/
1night
600yen
Tent space fee
1tent/
1night
1,200
yen
Tarptent space fee
1tent/
1night
700
yen
Parking fee
1car/
1night
1,200
yen
Recreational
vehicle
1car/
1night
2,400
yen
Motorcycle
1car/
1night
800yen
Cabin

6 people cabin
17,600
yen
10 people cabin
33,000
yen
Fuel Fee
When using the heat
(1 per building)
1,000
yen
Linen bill
(sheets / pillowcase)
1set
300yen
* Parking fee included
* Winter Closure
December 1 - March 31
Day camp (Only empty day)
Adult
(junior high school
age and over)
1person
700yen
Child
(Elementary School)
1person
400yen
Tent space fee
1tent
700yen
Tarptent space fee
1tent
500yen
Parking fee
1car
700yen
Recreational
vehicle
1car
1,400
yen
Motorcycle
1car
600yen
User guide
Reception will be held at Kouan Central Lodge. (Reception time: 8: 00 AM~ 8: 00 PM)
Check out time 10:00 AM.
We do not rent camping equipment (tent, tarp, barbecue set etc).
MAP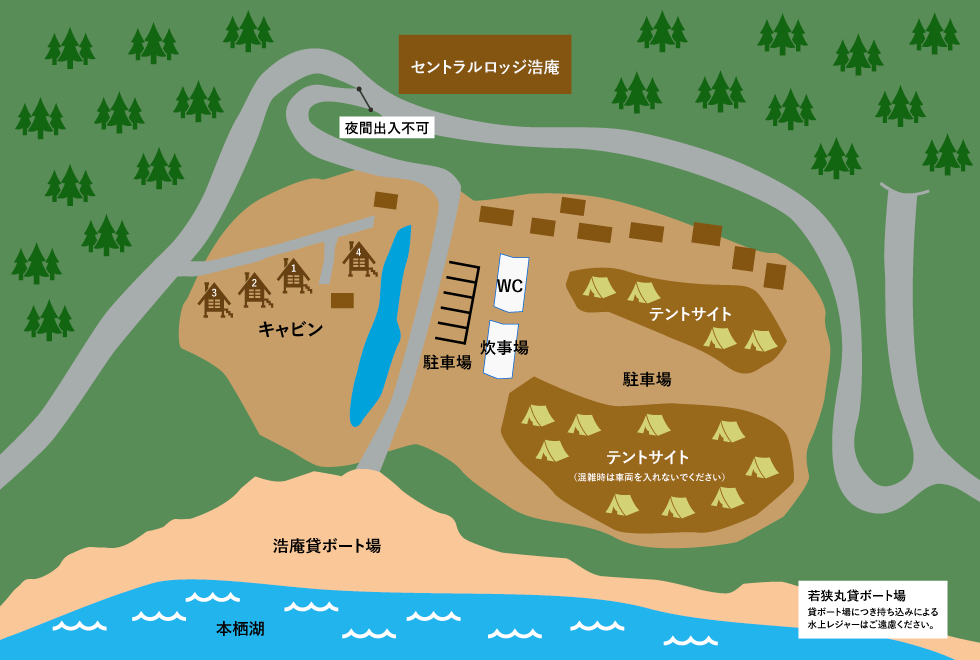 Infomation
The gate is open from 8:00am to 8:00pm.
Please be considerate of others.
As general rule, take yor garbage with you.
Please keep the area clean and beautiful.
After 8:00pm the gate is closed.
Checkout time is 10:00am for overnight campers.
Check out time is 5:00pm for day campers.
The bath may be used from 10:00am to 8:00pm.
Bath fees are 500yen for adults and 300yen for children(age 1 - 12).
Bath are located in the main building(Central Lodge - Kouan).
Big fireworks are not permitted.
Small fireworks are allowed until 9:00pm.
No one is permitted in the lake without a life jacket.
Personal motorboats, jet skis or other motorized watercraft are not permitted.
Cabin check in is 3:00pm.
Cabin checkout is 10:00am.
Do not smoke in the cabin.